If you are anything like me, then I'm sure your brows have been on one hell of a journey over the last 10 years. The brow trends really have gone from one extreme to the other with over-plucking to big blocky eyebrows, but I'm glad to say I feel like the beauty industry has finally mastered the brow game with the feathery brows trend.
Brows were probably the part I least looked forward to doing in my makeup routine, they always took so long and never turned out how I liked them. Learning the lesson of 'brows are sisters not twins' definitely helped the perfectionist within me. Since caving in to the social media influence of Benefit brow products, I have to say brows are now probably my favourite part of my makeup routine.
There are three products I absolutely swear by to create the perfect feathery brow:
This ultra-fine brow defining pencil is the number 1 selling brow product in the UK and it is definitely worthy of that accolade! The art of the perfect feathery brow is using the Precisely, My Brow pencil to create fine hair-like strokes at the front and tail of your brow, to give the illusion of fuller looking but natural brows.
If I were asked to pick one out of these three brow products then it would have to be the 24-hour brow setter. This invisible brow gel tames the brows, keeping them in place all day. I have always hated when brow gels start to lose hold during the day, or worse when the gel crystallises and falls throughout the day but you can rest assure with this brow gel – Your brows are going nowhere! It is the ultimate product for achieving feathery brows.
This fiber gel gives your brows the most incredible volume, combined with the tint it creates fuller looking brows. For those days I have minimal makeup on and just do a quick brow, I run Gimme Brow through my brows and I'm good to go. It fills in all the sparse areas, sets my brows in place and gives them a beautiful lift.
Benefit have some fantastic Black Friday deals when you shop on their website:
20% OFF / 25% OFF £60 / 30% OFF £100
Use Code: ADDTOBAG
*Offer excludes our Christmas tins, advent calendar and already discounted items.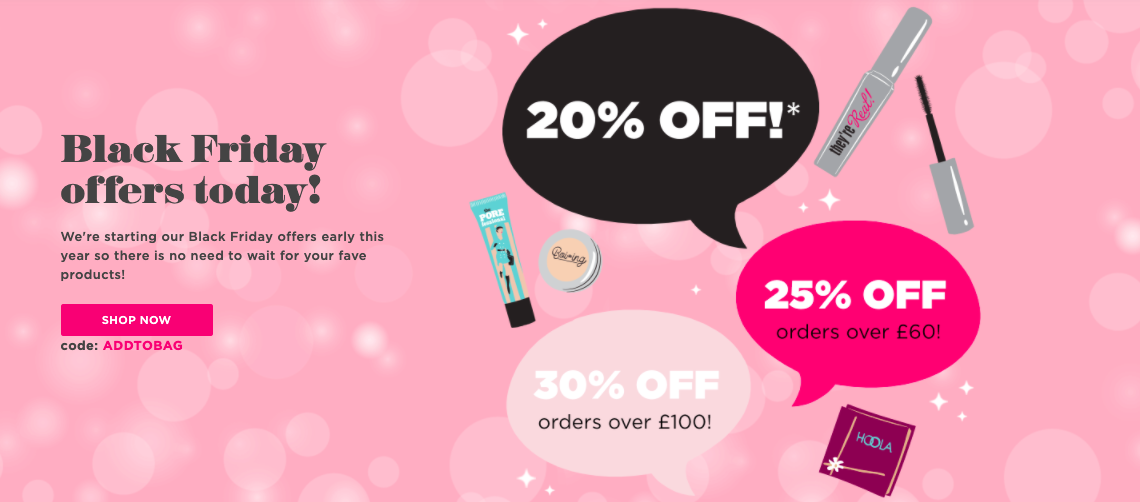 If you know someone who would love these products why not buy them the Magnificent Brow Show from Benefit for Christmas? With 5 full sized products for just £52.50 including the Gimme Brow, 24-hour Brow Setter and the Precisely My Brow pencil it is the perfect set to ace the feathery brow game.
Not sure what colour you should get? No problem, Benefit have a fantastic 'try it on' feature, simply upload a photo of yourself and colour match your brow products perfectly.
*Disclosure: Some of the links in the blog post are affiliate links, meaning at no additional cost to you I will earn a commission if you click through and make a purchase*